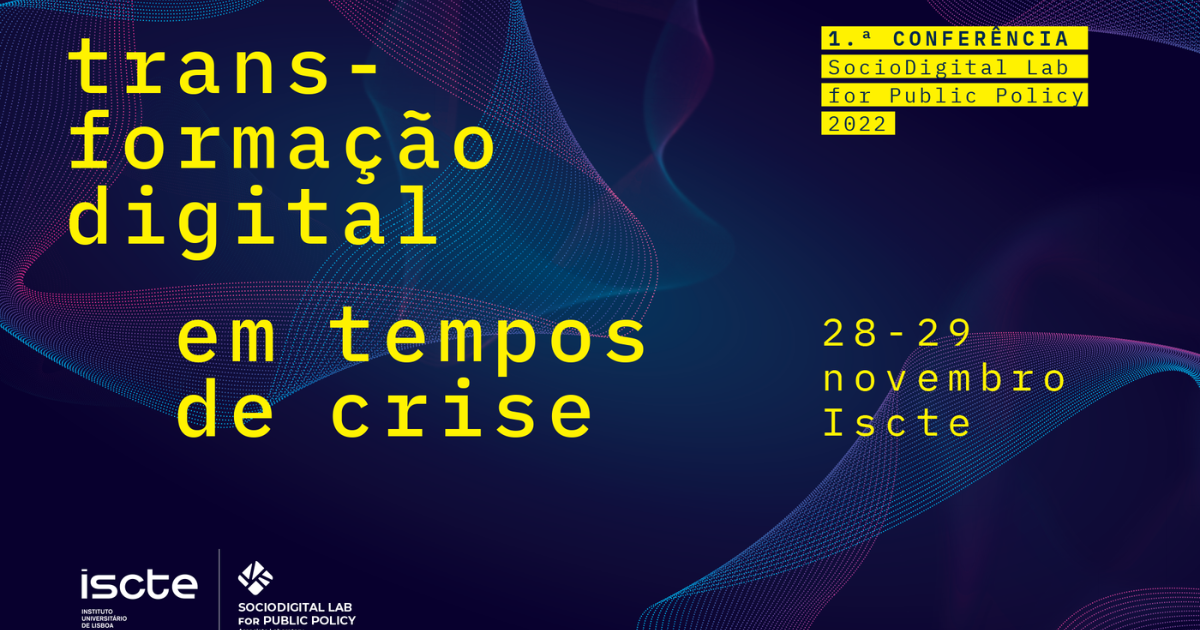 The 1st SocioDigital Lab 2022 Conference will take place on 28 and 29 November 2022, under the theme Digital Transformation in Times of Crisis, at Iscte-Instituto Universitário de Lisboa. The event has free entrance, through registration on the event website or can be followed online via Youtube.
This conference is an initiative organised by the Associated SocioDigital Lab for Public Policy and will feature guest speakers Mário Campolargo, Secretary of State for Digitalisation and Administrative Modernisation, who will speak on "Digital Transformation in Times of Crisis"; Ricardo Paes Mamede, Director of Iscte-Sintra, who will address "Digital Technologies, Economy and Society"; and Michael Tjalve, Director of Innovation in the Tech for Social Impact group (Microsoft Philanthropies), whose conference will focus on "Digital Transformation in Humanitarian Action". The opening session will be attended by the Rector of Iscte, Maria de Lurdes Rodrigues, and the Joint Chairpersons of SocioDigital Lab, Teresa Patrício and Luísa Lima. 
The conference programme also includes a series of round tables composed of several national and international speakers, with an interdisciplinary vision. The topics covered include migrations in the digital space, the profusion of hate speech online, the role of Artificial Intelligence in Public Administration, the digitisation of public employment services, the challenges and perspectives in leading sustainable systems, and also the environmental future and digital transformation.  
The ultimate goal of this event, funded by the Foundation for Science and Technology, is to reflect on how to transform public policies in an interdisciplinary way to better respond to the problems of the digital transition of society and institutions in the context of the current crisis. 
The SocioDigital Lab for Public Policy is an associated lab that brings together six of Iscte's eight research centres: Business Research Unit (BRU-Iscte), Centre for International Studies (CEI-Iscte), Centre for Research and Studies in Sociology (CIES-Iscte), Centre for Social Research and Intervention (CIS-Iscte), Centre for Studies on Socioeconomic Change and Territory (DINAMIA'CET-Iscte), and Information Sciences, Technologies and Architecture Research Center (ISTAR-Iscte). With an interdisciplinary approach, it aims to address the scientific, social, economic, environmental, health, cultural and political challenges facing society, promoting a close association between social sciences and digital technologies to study and impact public policies.