Activisms in Docs # 17
'OWINO: An African slum poisoned by lead'
Com o início do ano lectivo, retomamos as sessões do Activisms in Docs na próxima quinta-feira, dia 20 de setembro. O documentário exibido "OWINO: An African slum poisoned by lead" é realizado por  Javier Marín. A sessão decorre no LARGO Café Estúdio (Largo Residências, Intendente, Lisboa), com entrada livre.
Sinopse: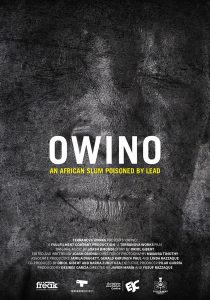 'OWINO: An African slum poisoned by lead'
documentário | 72'25 | 2017 | realização Javier Marín
Life was peaceful in the Kenya's coastal slum of Owino Uhuru until the smoke of an illegal lead-smelting plant polluted its soil and air. The plant that was operating at the heart of this poor community left a path of destruction in its wake: dead workers, hundreds of failed pregnancies and dozens of children suffering lifelong health effects of lead poisoning. They managed to get the factory closed, but Owino Uhuru remains contaminated today.
Combining investigative journalism and social documentary, OWINO tells the story of survival of a resourceless community victim of the car battery recycling industry. A killer industry operating across Africa in front of the eyes of careless governments and global markets.
Esta é uma actividade no âmbito do projecto Activisms in Africa
Apoios: CEI – IUL & Largo Residências