How can EU-Africa relations move forward? This is the core question to debate in the Seminar, which intends to look back at what the EU-Africa partnership has achieved so far – including the outcomes of the IV Summit – and exchange views about the opportunities and challenges to EU-Africa relations now as in the next few years, in a context of rapidly evolving continental and global dynamics.
There is a need for a political and mental shift in the way we perceive the EU-Africa partnership, as well as a need for a clear definition of interests and of the parties' mutual responsibility for this partnership to move forward towards an effective political dialogue. Therefore, the seminar will discuss and reflect on the following key issues:
(i) The main changes in the priorities, needs, expectations and ambitions of both continents in recent years, assessing what has been achieved and how persistent challenges have been addressed;
(ii) The added-value of EU-Africa relations vis a vis the growing diversification of flows and partners for Africa, as well as the potential for increased dialogue and cooperation between this multitude of players;
(iii) What should the partnership aim at in the near future and where should both parties focus on to ensure broader participation, improve cooperation and reinforce political dialogue, including on global issues.
This is an optimal time to gather decision-makers, civil society representatives, academics, entrepreneurs and other interested stakeholders around multidisciplinary, policy-oriented and open discussions on the future of EU-Africa relations. We look forward to your participation!
The partner organisations have organised a seminar on this theme in Lisbon, on December 2012 – the report can be accessed here.
The Europe-Africa Policy Research Network (EARN) launched, in 2010, a publication on EU-Africa relations, available here.
Please also see the blog on EU-Africa relations, facilitated by ECDPM, and the official website of the Parnership.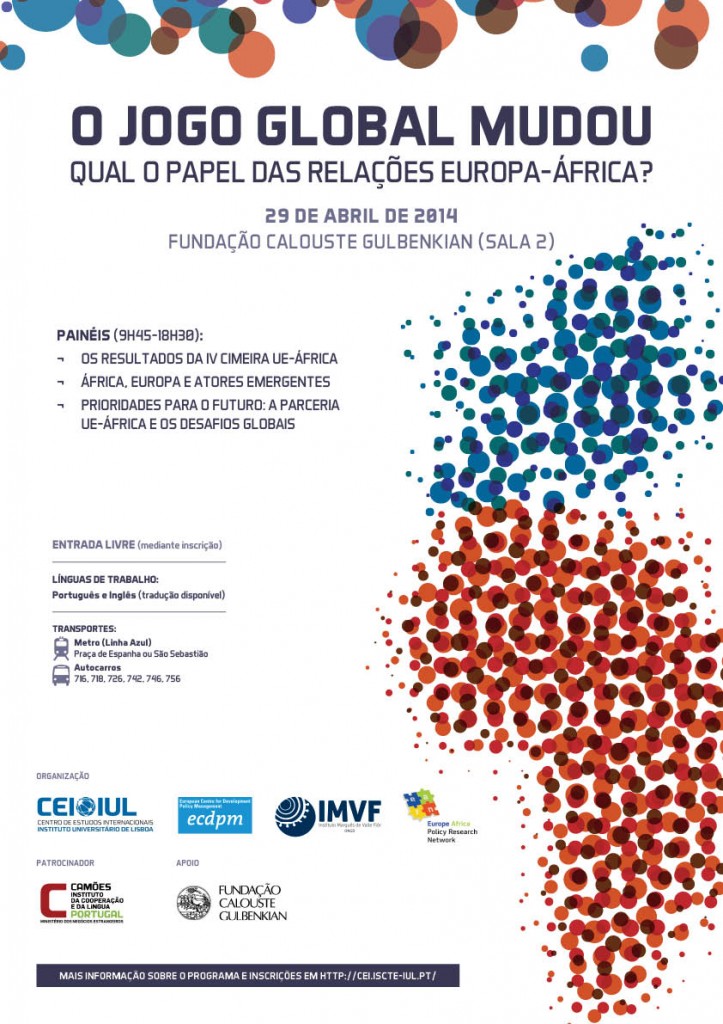 More information:
Patrícia Magalhães Ferreira, Investigadora
pmferreira@imvf.org
Prof. Doutor Fernando Jorge Cardoso, IMVF
Tel: +351 213 256 305
Fernanda Alvim, CEI-IUL
fernanda.alvim@iscte.pt
Tel: +351 210 464 029